District 2
Washington's 2nd Congressional District includes all of San Juan and Island counties, and portions of Whatcom, Skagit, and Snohomish counties. The District runs from Mountlake Terrace in the south, to Bellingham in the north.
From the islands and mountains to river deltas, the 2nd District is teeming with natural beauty and diversity. The region is home to critical Northwest species like Pacific salmon, bald eagles, and orca whales, and boasts some of the finest agricultural lands in the country.
In addition to agriculture, the 2nd District is a powerhouse of international trade, aerospace technology and marine manufacturing. The 2nd District is also home to the women and men of the United States Navy at both Naval Station Everett and Naval Air Station Whidbey Island.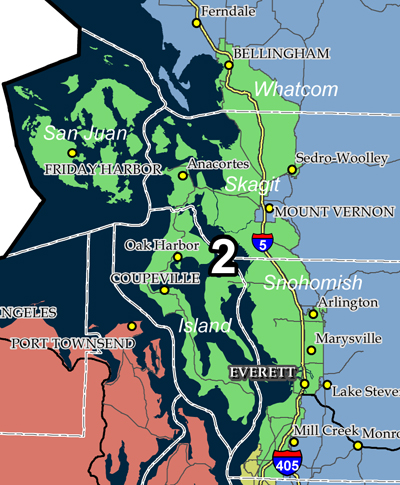 Latest from the Campaign
In the News