Trump names his SCOTUS nominee
Moments ago, Donald Trump announced Judge Amy Coney Barrett as his nominee to replace Justice Ruth Bader Ginsburg on the Supreme Court.
This nominee should be a call to action for all of us. We already know we are in the fight of our lives to take back the White House, win the U.S. Senate back and retain our majority in the U.S. House. Now, we must add the Supreme Court to our list. Join me today by donating $5, $10, or $15 to help us win this November. There is too much at stake not to act today.
The future of our fundamental rights hang in the balance.
A 6-3 conservative majority on the high court would put health care, reproductive freedom, labor rights, climate, voting rights, the right to unionize and LGBTQ+ rights at risk.
But don't take my word for it. Here is what NPR had to say about Barrett: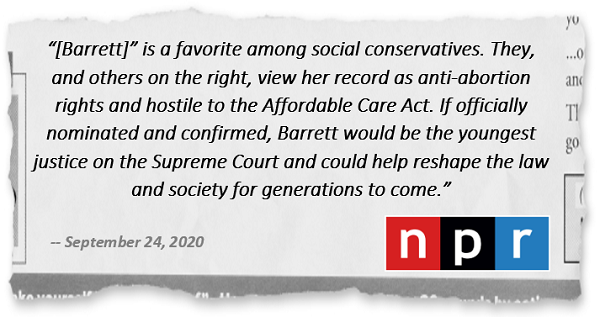 The coming weeks will shape the future of our country for decades. We must defeat Trump, take back the Senate and expand our House majority. Will you chip in before our end-of-quarter fundraising deadline? We need your help to reach our $2,500 goal.
Rick
Posted on September 26, 2020.