Our Work to Improve Transit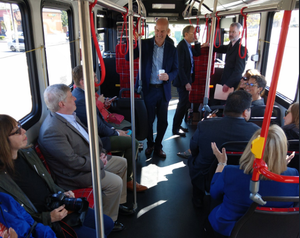 As someone who uses public transportation every day, I understand the importance of transit systems, especially bus systems, for working Americans.
Last year, we celebrated Everett Transit's first Electric Bus going into service, funded by a $1.375 million Bus and Bus Facilities grant from the Federal Transit Administration.

The new fleet replaces old assets, reduces greenhouse gas emissions and serves Everett Transit's highest frequency route, which has an annual ridership of over one million people.
Like many Washingtonians, I take the bus to work every day.
Investments in Washington's transportation infrastructure is critical to sustain and build on the state's economic growth and put folks in the Pacific Northwest to work! Last year:
Skagit Transit was also awarded $1.375 million by the Department to help fund construction of a new maintenance and operations facility.
The Federal Transit Administration issued a $43.2 million grant for Community Transit's Swift Green line - the second bus rapid transit route in Snohomish County that will connect major employment and residential centers including Canyon Park, Paine Field, and Mill Creek Town Center.
These projects are critical to the Northwest corridor as traffic congestion in the region increases - especially after Everett was named the most congested city in the U.S. last year.
As the founder and co-chair of the Congressional Bus Caucus, I am focused on strengthening federal investment in buses and transit that will keep the economy thriving.
Let's keep our region moving!
Rick
Posted on February 28, 2019
.
Latest from the Campaign
In the News