Join Me: November 13 Everett Business Lunch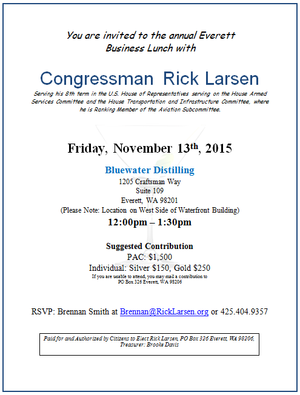 Please join me Friday, November 13 from 12:00pm – 1:30pm for my annual Everett Business Lunch at Bluewater Distilling.
If you're unable to attend please consider contributing to my campaign by clicking here.
Please send RSVPs to Brennan at [email protected] or call 425.404.9357.
Bluewater Distilling 1205 Craftsman Way Suite 109 Everett, WA 98201 (Please Note: New Location on West Side of Waterfront Building)
I hope to see you November 13 and thank you for your continued support!
Rick
Posted on October 16, 2015
.
Latest from the Campaign
In the News