Meet Rick Larsen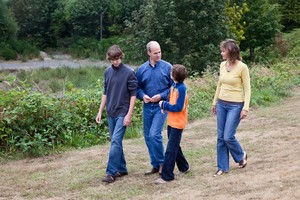 "I have always been your neighbor first and your Congressman second. My heart has always been here in Washington state. I have the right priorities: working to improve the local economy and create jobs and working across party lines to get things done. I ask for your vote." – Rick Larsen
Rick Larsen was born and raised in Arlington, Washington. His dad, Dick Larsen, worked as a lineman for the Snohomish County Public Utility District. His mom, Yolanda Larsen, stayed at home full-time raising Rick and his seven brothers and sisters. As Rick says, "It wasn't a fancy upbringing, but it was a solid one in my hometown of Arlington."
Rick and his wife, Tiia, have two sons, Robert and Per. They represent the fifth generation of the Larsen family to call this area home. Rick's great-grandfather settled in Deming and helped build a local church. Rick's mom and many other family members are proud to still call Northwest Washington home.
In Congress, Rick puts the needs of Northwest Washington first and works across party lines to find solutions to local problems. In the last two years, Rick led passage of bipartisan legislation to create jobs here by helping businesses export their goods overseas, led a bill to improve pipeline safety and fought for passage of a robust transportation bill to create jobs. He has delivered on local priorities including making sure the Air Force Tanker contract went to Boeing, securing funds for the Skagit River General Investigation Study, and encouraging the Navy to bring the USS Nimitz aircraft carrier to Everett.
As a senior member of the House Transportation & Infrastructure Committee, Rick is fighting for investments in roads, bridges, highways and transit systems to create jobs and provide the foundation for long-term economic growth.
As a member of the House Armed Services Committee, he fights for the long-term vitality of Naval Station Everett and Naval Air Station Whidbey Island, and to make sure that members of the military and veterans get the support they have earned. As the Seattle Times recently noted, "Larsen has worked to sustain the military connection in the region, with civilian jobs via the Air Force refueling tanker and Boeing, and [maintaining] a strong presence at the naval and air installations."
Rick learned the values of service, commitment and community from his parents, and carries those Northwest Washington values with him while representing us in Congress.
Latest from the Campaign
In the News
Connect with Rick

Latest tweet from
@larsenrick
: